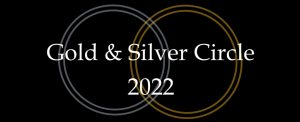 THE NATIONAL ACADEMY OF TELEVISION ARTS & SCIENCES BOSTON/NEW ENGLAND CHAPTER  HONORS BROADCASTING LEGENDS IN THE 2022 GOLD & SILVER CIRCLE AWARDS
 Monday, December 5, 2022 at 6:00PM ET
1 Gold Circle Inductee; 5 Silver Circle Inductees
 BOSTON, MA – November 2, 2022 – The National Academy of Television Arts and Sciences (NATAS) Boston/New England Chapter is proud to announce the 2022 inductees selected for the prestigious Gold & Silver Circle Awards.
Established in 1993, Silver Circle is an honor society within our chapter for members who have spent 25+ years working in pursuit of our profession's highest and most noble goals. Gold Circle is for those with 50+ years. The circle recognizes those in a television station, cable channel, or production house who have been reliable, valued, contributors and mentors.
"This particular recognition is so meaningful because it comes from our peers," said Kathryn Shehade, President of The National Academy of Television Arts and Sciences / Boston New England Chapter. "These individuals have directly impacted New England media and, over the years, have evolved into ambassadors for humanitarianism in television. Their contributions and achievements have earned them the respect of their colleagues. We are honored to induct each of these outstanding recipients into the  prestigious Gold & Silver Circle."
The Boston/New England Chapter has inducted over 170 industry professionals who have made significant contributions to television, the Academy, their community and to people training for careers in television.  Honoring broadcast excellence and community commitment, these New England television pioneers will join an array of broadcast leaders who have set industry standards with a strong commitment to their craft.
The 2022 Gold Circle Inductee:
Bob Lobel:              Sports Director and Anchor: WBZ (Retired)
The 2022 Silver Circle Inductees:
Nancy Bent:             Assignment Editor:  WCVB (MA)
Chuck Carter:          News Director: WTNH (CT)
Liz Cheng:               General Manager for Television: WGBH & WORLD Channel (MA)
Bob Ward:                Reporter/Host: Boston 25 News (MA)
Pamela Watts:          Reporter/Co-Host Rhode Island PBS Weekly (RI)
You can find more information about the Gold & Silver Circle here.
The 2022 recipients will be inducted during the Academy's Gold & Silver Circle awards ceremony with their family and peers at 6:00 PM ET on Monday, December 5, at Granite Links in Quincy, MA.
Audiences interested in more information as well as photos from the inductions can visit  the Academy's Boston/New England social and digital platforms including Facebook, Instagram & Twitter.
About NATAS: Boston/New England
The National Academy of Television Arts and Sciences is dedicated to the advancement of the arts and sciences of television, the fostering of creative leadership in the television industry, and the encouragement of excellence in artistic, educational, cultural and technical progress.
###
Media Contacts:
Jill Jones
Kathryn Shehade
The Gold & Silver Circle is a society of honor.  Nominees considered for induction to the Gold and Silver Circle should have significant contributions to television or a media-related industry, the community, to people working or training for careers in television or allied media and to The National Academy of Television Arts & Sciences.
The Silver Circle recognizes significant contributions made by these individuals to our industry for twenty-five years or longer.
The Gold Circle recognizes significant contributions made by these individuals to our industry for fifty years or longer.
While it is not possible to select everyone who is submitted, we do keep nomination forms and consider all new and previous nominees for 5 years from the year they were submitted.
---
Submission of an entry constitutes an agreement that each entrant listed on the entry must serve as a peer judge on at least one panel in the next 12 months (calendar year-2022).
There will be judging opportunities from other NATAS chapters from March-October 2022.  We will notify 2022 entrants via Constant Contact email blasts when judging is available.  You will login to your dashboard to see available panels.  Select a panel and request to be added to the panel.
If you unsubscribe to Constant Contact or are not getting the emails, you can always see the information from the JUDGING tab on our website (newenglandemmy.org).  Also, you can always email the Chapter office to inquire about judging.
Entry prices will be increasing in 2023.


Sign up for judging TODAY to keep your entry price the same as this year!
It is the Entrant's responsibility to make sure their membership or user account profile is up to date.  You will find your profile under SETTINGS on your dashboard.
The success of the Emmy® Awards process depends on the willingness of qualified professionals (entrants) to serve as judges. Peers in other NATAS Chapters are judging our Chapter's entries. By entering, you agree to serve as a judge when asked.
JUDGING SCHEDULE
There will be five or six rounds (opportunities) to judge, March-October 2022. Depending on the category, the time commitment is typically, 30 minutes to 2 hours. Everything is online so you can work at your own pace, as long as you complete judging by the indicated deadline for the panel.
LOGIN TO YOUR DASHBOARD
Under JUDGING, click on SEARCH PANELS to see all of the panels available to judge. Click on details and request to be added to a panel.
Please Note:
Judges are assigned on a first come, first served basis so sign-up ASAP to get your first choice.
You may sign up for more than one panel.
Sign up for only panels you are qualified to judge.
To find a panel that you need to finish, click on ACTIVE PANELS & STATUS.
If a panel does not have enough judges, you may be assigned to a panel according to your judging preference or your role on your submissions.