Students make the most of the Lights, Camera, Action Conference at Millis High School


Pictures from the 2017 LCA
The Chapter Programming Committee hosts college events throughout the region.
University of Rhode Island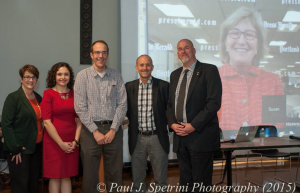 Journalism day panel full group caption, from left: Sue O'Connell, Bay Windows,  Erica Moura, Boston Herald, Peter Huoppi, The Day of New London, John Friedah, MIT, Tim Egan, Susan Kimball, Portland Press Herald.
Kevin Deane and NH1.com @ Lyndon State College
The Digital Content Director of NH1.com visited the Intro To Storytelling class at Lyndon State College, appropriately via Skyoe. The goal was to help the students better understand how the multi-platform news operation finds and development video content. After a presentation about the current news industry and innovative operations at NH1, Kevin took questions from the students.
Cindy Fitzbibbon and WCVB@ Lyndon State College
The Morning Meteorologist of WCVB visited the Intro To Storytelling class at Lyndon State College, via Skype. Cindy, a LSC alum, was eager to give the students insight into how Storytelling is a key competent of delivering the weather to the viewer. After a presentation about the technologies that drive forecasting and the team effort in meteorology at WCVB, Cindy took questions from the students.
*******************************************************************************
Curry College Panelist: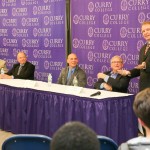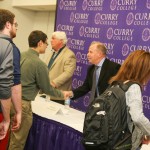 Jim Burgoyne (Senior Director of Production & Operation, Comcast SportsNet), Denny Iott (Coordinator of News, NESN), Jay Miller (Director of Operations, Brockton Community Access) and Jim Young, (Associate Lecturer in Sports Broadcasting and Director of Communication Curriculum, Chyten Educational Services)
Host:  Jerry Gibbs, Communication Professor, Curry College
The full live stream recording is also available here:  https://www.curry.edu/about-curry/news-and-events/recent-news/news-index/sports-panel-f2015.html
*******
The New England Chapter of The National Academy of Television Arts and Sciences announces opportunities for students!